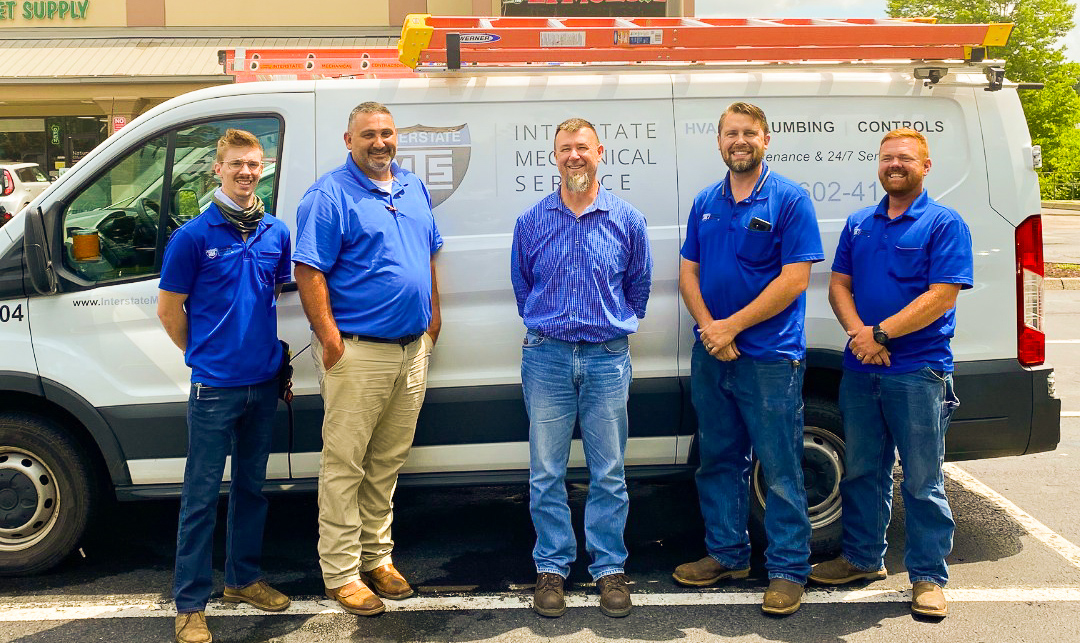 Build Your Future With Us
At Interstate Mechanical, we strive to create a culture that aligns with our mission: employees who have integrity, value teamwork, create a safe work environment and employees who are dedicated to providing our clients with the highest quality service and products.
If you are a highly-motivated professional that would like to work in a fast-paced mechanical service environment, we would love to hear from you.
At IMS, we take great strides to be our clients' Trusted Facility Partner. That's why we pride ourselves in being a Tennessee Drug-Free Workplace. Additionally, all of our service specialists are required to pass a background checked by Tennessee Bureau of Investigation's TAPS (Tennessee Applicant Processing Services) unit upon entering our clients' facilities.

Benefits Available to Eligible Employees:
4-day Work Week
Paid Holidays
Paid Vacation
Health Insurance
401(k) Pension Plan with Company Match (immediate upon hire)
Dental Insurance
Vision Insurance
Tel-A-Doc (Telemedicine)
Group Voluntary Term Life Insurance
Years of Service Days
Paid Time Off for Community Service/Volunteer Day
AFLAC Supplemental Insurance
Education Assistance Program
Referral Bonus Program
Some benefit programs require contributions from the employee; others are fully paid by Interstate Mechanical.
TRANSPARENCY IN COVERAGE
This link leads to the machine-readable files that are made available in response to the federal Transparency in Coverage Rule and includes negotiated service rates and out-of-network allowed amounts between health plans and healthcare providers. The machine-readable files are formatted to allow researchers, regulators, and application developers to more easily access and analyze data.
Apprenticeship Program & On-the-Job Training
Did you know that for every four skilled workers that leave the trades, only one is entering the field?
At Interstate, we are not only passionate about the trades, but we are passionate about education and on-the-job training to raise up the next generation of skilled workers. Maybe you or someone you know is looking for an opportunity to start or change their career path. Our apprenticeship program at Interstate may be a great option for you.
Interstate's Apprenticeship Program
Here's How it Works:
Apply using our General Application and go through the interview process to determine your eligibility.
You select the trade you wish to pursue (HVAC or Plumbing)
We will assist you in getting enrolled for the appropriate semester with our partnering trade school.
We will fund your education as long as you remain full-time employee for the full term of your apprenticeship program.
By the end of the program, you will be eligible to be certified and licensed in your trade.
Ride and Decide Program
Interstate Mechanical Service is also a proud partner of Tennessee Association of PHCC's Ride and Decide Program, where high school-aged students in the Knox County area can work during the summer at various participating companies to explore if they would like to pursue a career in the trades in the future.